Horse Hoof Trimming 101 – Getting Started Trimming Your Own Horse's Hooves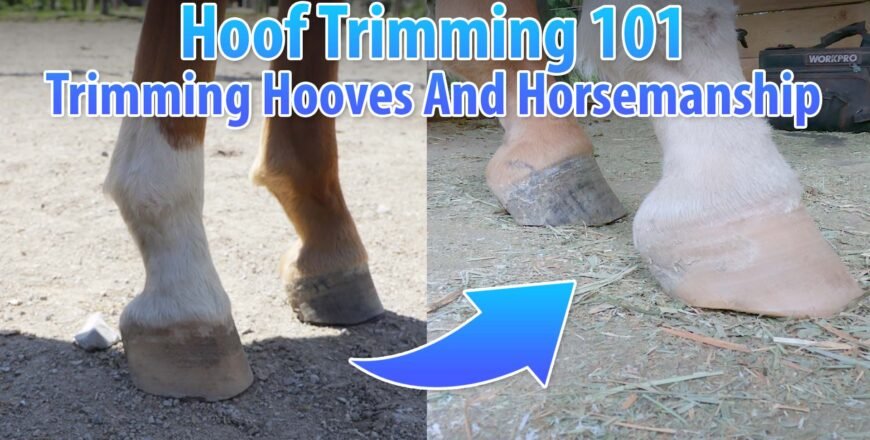 In this course you will learn all about the basics of trimming horse hooves. When you're finished this course, you should be able to recognize the differences between healthy and unhealthy hooves and have a decent idea of how to get started on fixing problems as you'll know why they are there and how they should be. We start gently with Lena, our oldenburg/draft horse, which is gentle as can be to be trimmed and move on next to Mr. Wilde, who is a feral house just a few months off of a local range here in B.C. that we've rescued. Our last horse will be Gracie, our Arabian horse, that has had quite a few issues in her time with a great story to tell.
The initial release of this course (August 28, 2021) is set with an early bird price ($50) as all of the lessons aren't online yet. As of Sept 4, 2021 there are 4 hours of videos to watch on three different horse's trims with more lessons yet to be added! If you purchase at the early bird price you will receive all future updates to this course. The cost of the course will go up as more lessons are added which makes right now the best time to invest in an education here on hoof trimming!
Introduction
1
An Introduction To Hoof Trimming 101
2
Introduction To Hoof Trimming and Your Teacher
In this lesson I say hello and talk about hoof trimming in general.
3
Introduction To The Tools For Hoof Trimming
4
Talking About Hoof Trimming Tools In Detail – Bag, Rasps and Hoofpicks
5
Talking About Hoof Trimming Tools In Detail – Apron, Knives and Nippers
Assessing And Trimming Our First Horse (Lena)
1
Basic Horse Management And Groundwork Skills When Trimming
2
Initial Assessment Of Hooves For Trimming From The Outer Wall
3
Detailed Assessment Of Hooves For Trimming From The Outer Wall
4
How To Take Good Pictures Of Hooves For Reference And Assessment
5
Understanding Good Body Positioning For Trimming Hooves
6
Understanding The Parts Of The Hoof
7
Assessement Of Hooves For Trimming From The Bottom
8
Starting The Trim At The Frog – Trimming The Frog
9
Continuing The Trim Of The Hoof – Trimming The Bars
10
Make Sure To Pace Yourself And Take Breaks!
11
Trimming The Walls Keeping The Landmark In Mind For The Shape To Trim To
12
Flare And Deviation Of The Wall and Trimming To Reduce The Risk
13
Practicing Using A Rasp And Some Techniques To Be Efficient And Effective For Trimming
14
Finishing Up The Final Bits Of The Trim For The Heels, Pillars and Bevel
15
Assessing The Trim And Comparing To The Side That Isn't Done Yet
Trimming Both Front Hooves Of A Difficult To Trim Horse (Our B.C. Wildie Who Is Still In Training For Feet)
1
Introduction To How To Work On Trimming A Difficult To Trim Horse
2
Assessing The Hooves From The Outside And Talking About Wear Patterns, Growth Patterns. Bumps And Rings
3
Starting The Trim For Both Front Hooves And Talking About The Groundwork And Thought Process For Difficult To Trim Horses
4
Continuing Trimming Of The Front Right Hoof and Discussing Where We Trim To and Why
5
Working On Trimming The Walls Of The Front Right Hoof
6
Finishing Up The Trim On The Front Right Hoof
7
Training For Trimming From the Front Top Edge Of A Hoof
8
Working Through Trimming The Front Left Hoof
9
Final Assessment Of The Trim For The Front Feet Of Mr. Wilde
Trimming The Back Hooves Of Our B.C. Wildie Who Is Still In Training For Feet Pickup And Trimming
1
Introduction To Working On The Back Feet Of A Hard To Trim Horse
2
Assessing The Back Feet From The Outside For Possible Trim Requirements And For Reference Later
3
Assessing The Back Hooves From The Bottom For The Trim And Starting To Trim Both
4
Continuing The Trim Of The Back Hooves
5
Finishing Up The Trim Of The Back Feet
6
I Quick Final Look At The Back Feet From The Outside To Compare To The First Look Before Trim
Trimming The Front Feet Of Gracie Our Arabian Rescue With High-Low Hooves (In Production - Coming Soon)
1
Introduction To Trimming Our Arabian Mare Gracies Front Hooves With High Low Growth Pattern
2
Assessing The High Low Front Hooves Of Gracie From The Outside
3
Trimming The Front Left High Hoof For Walls, Frog And Bars With A Final Assessment Of The Trim
4
Starting The Trim On The Front Right Low Hoof For The Frog And The Bars
5
Finishing The Trim Of The Front Right Low Hoof For The Walls And An Assessment Of The Hoof Trim
Understanding The Biology And Physics Of The Hoof
1
Demystifying Underrun Heels And Understanding The Importance Of Good Structure In Horse Hooves